FRESH DANCE-THEATER MADE IN LA
The Big Show Co. is a LOS ANGELES-based dance-theater troupe that integrates dance, theater, music, and visual imagery for performances and workshops across the globe.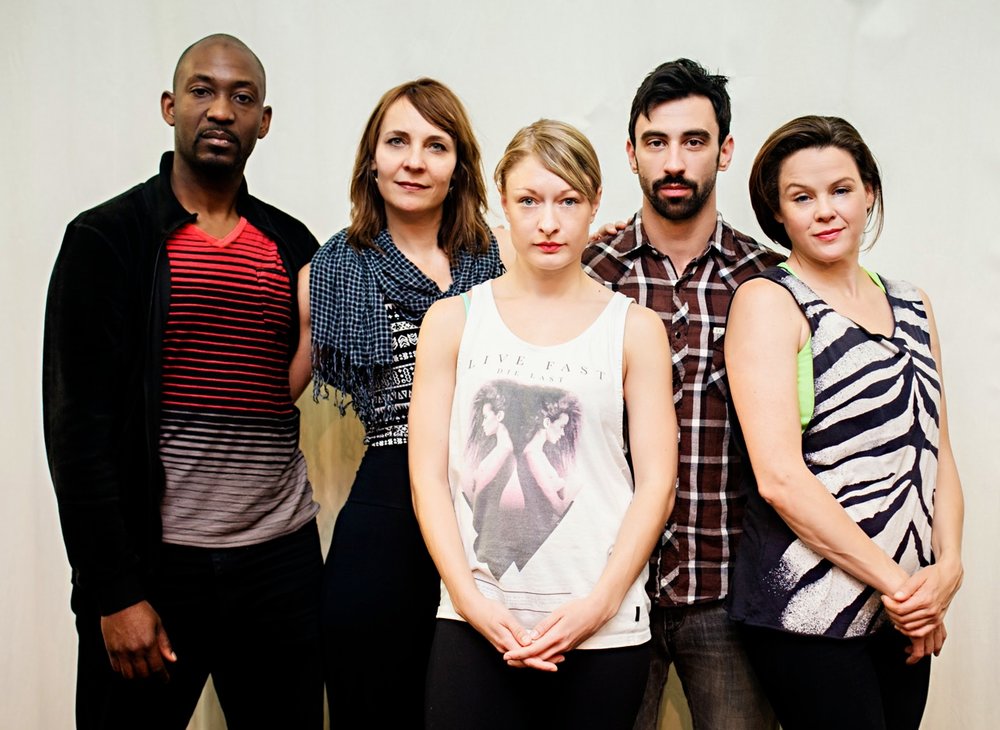 "Raising the Barre in the LA Dance Scene"
"Compelling, Introspective,
Humorous,
Intelligent, Entertaining,
Savvy, Accessible"
ABOUT THE BIG SHOW CO.
The Big Show Co. creates original dance-theater performance. Rooted in a passion for communication, MacBean creates work for The Big Show Co. that highlights the triumphs and failings of language - the language of the body and of text. MacBean makes work that is self-reflective - poking fun at human failings while exposing universal vulnerabilities that are simultaneously tragic and beautiful.
The Big Show Co. was founded in 1999 and integrates movement, text, theater, visual imagery, and music. The Big Show Co. debuted as part of the California Choreographers Festival in Laguna Beach in 1999 and now has a repertoire of over twenty works. In New York they have been presented by The DIA Center for the Arts and WOW. In Los Angeles, they have been presented by Ford Theatres, The Skirball Cultural Center, The Museum of Contemporary Art, The Armand Hammer Museum, Electric Lodge, Barnsdall Art Park, Highways Performance Space, the El Portal Theater, Electric Lodge, Diavolo Dance Space, CalArts Commuter Festival and REDCAT's Studio, as well as by The A.W.A.R.D. Show! produced by The Joyce Theater NY, and ODC in San Francisco. The company toured Germany in 2001 teaching workshops and performing in Freiburg, Munich and Amoltern.
In addition, The Big Show Co. is the home for Arianne MacBean's Scripting The Body curriculum which pairs writing and movement, an educational practice that highlights her signature method for creating original dance-theater material (see Teaching).
Current Company Members Include:
Angelina Attwell (Performer) is a dancer, educator, and freelance photographer. A passionate arts and children's rights advocate, Attwell founded Mighty Me Arts Education Co. to bring arts instruction to children in foster care systems and orphanages around the world. She received a B.A. in Dance from C.S.U. Long Beach, and is currently on the Dance Faculty at Oakwood School.
Genevieve Carson (Performer) is Artistic Director of L.A. Contemporary Dance Company. Her performances, choreography, and teaching span North America, Philippines, Argentina, Sweden and New Zealand. She has worked with LACDC, String Theory Productions, AXIOM, Rosanna Gamson/Worldwide, kDub Dance, and Lula Washington Dance Theatre. She is on Faculty at American Musical and Dramatic Academy, and holds a B.F.A. in Dance Performance from Chapman University.
Brad Culver's (Performer) favorite recent performances include Sleep (BAM Next Wave/Yale Rep), Gertrude Stein's Brewsie and Willie (The Public Theatre's Radar L.A.), and One Man, Two Guvnors (Berkeley Rep.). Culver is founding member of LA-based Poor Dog Group. He received his B.F.A. in Theatre from CalArts.
Max Eugene (Performer) is Haitian-American, raised partly in Brooklyn. Eugene studied Philosophy, Theaters Arts, and Dance at Hobart and William Smith Colleges, and received an M.F.A. in Performance at CalArts. He currently teaches Filmmaking at ELC Film Explorer at U.C.L.A., and has two documentaries, as well as a set of films and music videos for Labcoat Meerkat Productions, slated for release in 2019.
Collaborators:
Nathan Clum, Dramaturg
Pablo Santiago, Lighting Design
Lynda Taylor, Costume Designer
Photo Credits: Dyanne Cano